HawkHost Hosting Review 2018
Is HawkHost The Right Host For You?
HawkHost is a superb hosting service. I'm not one to give out praise easily but in nearly all aspects, HawkHost is a 5 star host. But just to be transparent, I wanted to make it very clear that the only reason HawkHost (with the cool logo) hasn't been given a 5 star rating is due to a lack of speed when it comes to support issues.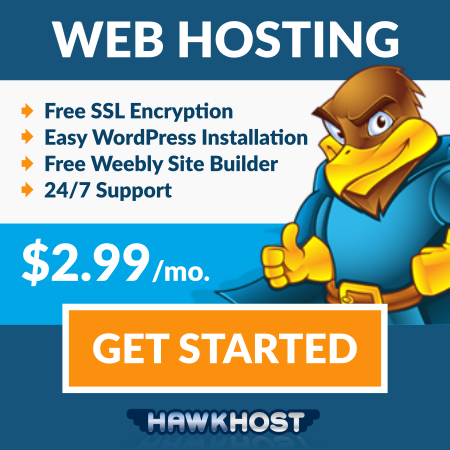 That being said, you're paying an extremely low amount of money for what you get – Which is an SSD host with over 6 data center options in 3 continents and the ability to host an unlimited amount of domains for under $5/month – A 10gb maximum disk space for that price, but for a few extra bucks a month you can have unlimited disk space. That's a lot of bang for your buck and very impressive when directly compared to other providers on the market.
Each plan is optimized and ready to work on the CloudFlare content delivery network. This integration ensures that you don't have any problems with the configuration and that you can simply activate the CDN from the convenience of the Hawk Host control panel. After that, you should start seeing better performance on all of your sites.
Hawk Host also offers support for multiple content management systems including WordPress, Drupal, Magento, and Joomla. You receive a wide variety of system-specific tools, along with the convenience of one-click installation.
As for support, you get a solid deal with technical support. Plus, there's a 99.99% uptime guarantee.
Some of other cool features packed in with all shared hosting plans include the following:
At least 10,000 MB of space (goes up to unlimited)
Unlimited bandwidth
Unlimited domains
Unlimited databases
A free memcached server
A free SSL certificate.
What's also interesting is that Hawk Host lets you choose the location of the server that your website is hosted on. So if you're located in the Los Angeles area, selecting a local server means end users in that area can access your site a little quicker.
GOOD PRICING